Meet Shane Gonzales: Our April 2023 Winner
Shane's Story
Shane is the April 2023 Built With Science transformation winner, and we're thrilled to have had the chance to talk to him about his journey.
Here are the key snippets from our interview (note: lightly edited for length and clarity).
Shane, what inspired you to start your fitness journey? Tell us the backstory.
Through high school, I was an athlete. I played a lot of sports.
But that stopped in my 20s, and I started gaining weight probably from my mid-20s. I'm 30 now, so I think one day, we took a picture — and I kind of realized how overweight I was.
I didn't like the way I looked.
I also didn't have a lot of energy for stuff I used to do, which was really humbling to see because I was always active when I was younger.
So that was when I was like, all right, I wanna get back into the gym.
What made you choose the Built With Science program? When did you see results?
I actually found Jeremy on YouTube.
So I watched a lot of those tutorial videos, found value in them, and decided to invest in a program. One big draw factor was the amount of educational stuff available, especially for a beginner. I love how the program breaks it all down.
It's easy to understand. It's nice. And I just really learned a lot from it.
I noticed results within the first 30 days. My weight declined, my energy was going up, and I also started to enjoy my workouts. Before the program, I weighed around 220 pounds, and I was about 30% body fat, maybe a little more.
Now? I've lost about 50 pounds. I'm at 170 pounds now and am probably around 10% to 15% body fat. It isn't just my outward appearance that's changed, either.
My strength has also increased. When I started the program, I couldn't even do 1 pull-up. But now, I'm super close to my goal of 12 consecutive pull-ups. I'm just short on 1 rep, so I'm working hard on that right now.
Before And After Pictures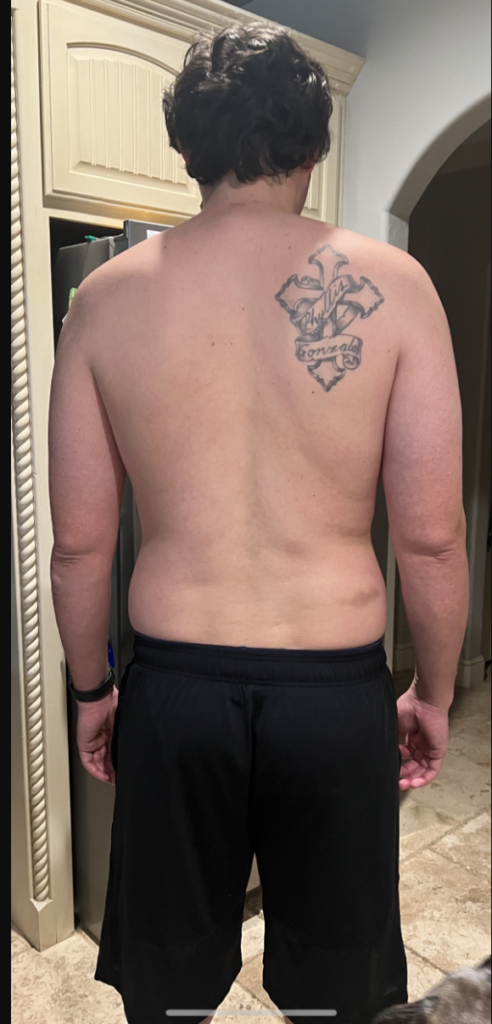 Other Highlights From The Interview
Did you run into any challenges?
My form on a lot of compound lifts, like the deadlifts, was a big one.
So I really loved how the program broke proper form down — it made me stop ego lifting, which might have led to some of the shoulder pain I initially felt.
But after dropping the weight and focusing on my form, I feel much, much better.
I also never really focused on food before. I never knew how many calories I was eating when I was going out. I never really looked at the nutrition label. And even when I did, I didn't know what carbs, protein, or fats were.
The program changed all that. The nutritional spreadsheet was a real life-changer.
I was putting in my weight and calories each morning, and it was super helpful to see it adjusting my calorie and macros budget to help me stay on track with my goal.
What advice would you give to someone starting on the Built With Science program?
I actually have 3 pieces of advice.
First, if you don't like the food you're eating or a specific workout you're doing, change it. Don't be miserable, because to me, that makes people quit.
Second, change your nutrition gradually. I say this from experience.
I went all-in from the beginning, dropped my calories to 1,800, and I was miserable for a month. So if I could go back, I'd optimize my meals, starting with breakfast — find 3 or 4 breakfast meals that worked with my calories and macros, then move on to the next meal. Lunch and dinner.
Because that's way more sustainable than switching all 3 meals at once.
Lastly, work on your form more when you're starting out as a beginner. Really focus on that mind-to-muscle connection because that's what really builds that muscle.
How You Can Be Next
Every month, we'll choose a new winner who'll get supplements and a US$1,000 cash prize. If you want a chance to win or join our program with 100,000+ science-based believers like Shane, click the button below. You can change your life like Shane did and inspire many others!
If you want a done-for-you science-based plan that'll guide you every step of the way with both your nutrition and training, take my quiz to find out what program is best for you and your body below:
Click the button below to take my analysis quiz to discover the best program for you:
↓
Thanks for reading Shane's story!
Here's Shane's Testimonial Video From Our Interview!

Meet Shane Gonzales: Our April 2023 Winner