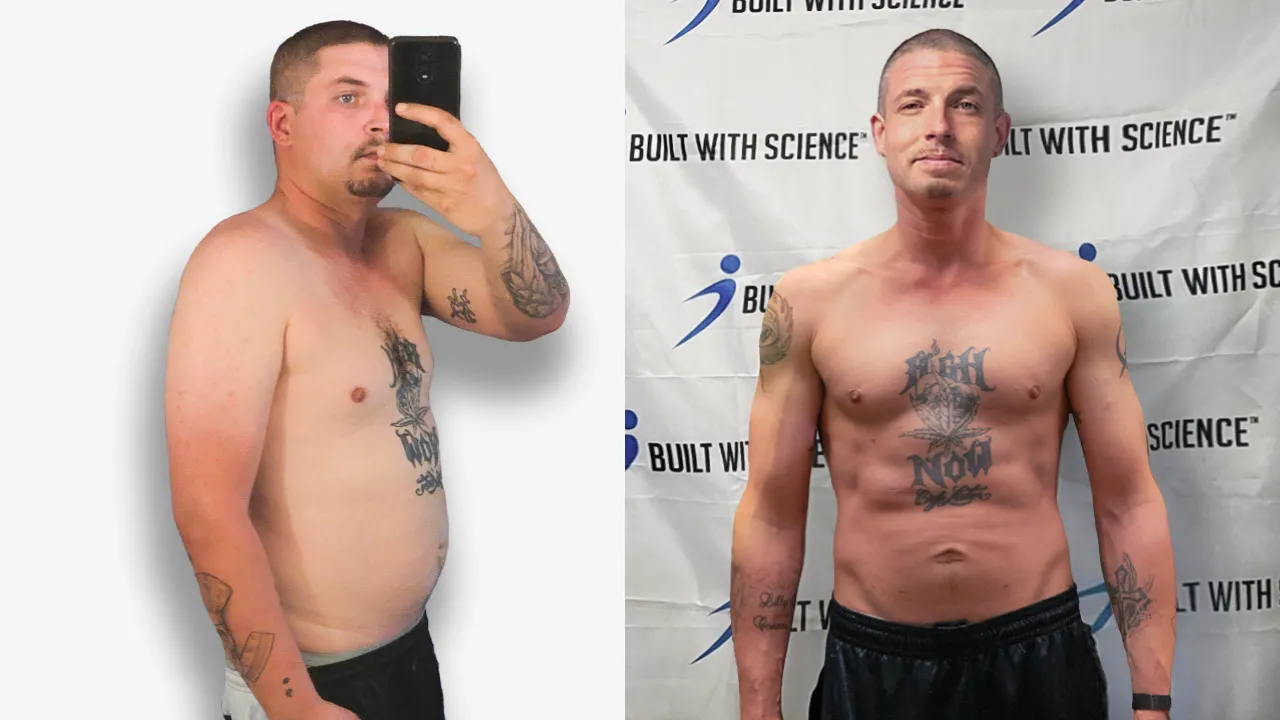 Meet Sean O'Brien: Our June 2023 Winner
Sean's Story
Sean is the June 2023 Built With Science transformation winner, and we're thrilled to have had the chance to talk to him about his journey. 
Here are the key snippets from our interview (note: lightly edited for length and clarity).
Sean, what inspired you to start your fitness journey? Tell us the backstory.
I moved to Kentucky, and I started cooking professionally.
I know a lot of people don't know this, but outside of the entertainment industry, the service industry is the second most common for drug and alcohol abuse. And that's when I started drinking real heavily. I started doing a lot of drugs, and I used daily for close to 10 years.
Because of my use, I had a stroke. That was one of the hardest and scariest things I ever went through in my life. I thought I was going to die.
And I still didn't get sober.
I'd work 13 hours in a day, and I would get off work, and I would drink and party until, you know, the sun came up, and I'd take maybe an hour power nap, and I'd do it all over again.
For almost 3 years, I hated myself. I hated everything about myself. I couldn't look at myself in the mirror. I couldn't look anybody in the eye. I couldn't look myself in the eye.
It was actually February 7, 2022, and I had actually looked up meditation on Google because I heard meditation helps.
I woke up, and I did a meditation that morning after I got out of bed, and I had this flood of emotion that came over me. I had this entire day where I did nothing but cry, and you know, I got all snotty and couldn't breathe.
And when it finally came to a close, I looked at myself, and I was like, "What the hell are you doing?"
So I changed. I cut everybody out of my life, I changed my phone number, I went from having friends — you know, my party friends — to literally having nobody.
I was looking up workout videos because I wanted to do something different than what I was doing, and I ran across Jeremy by mistake and came across the Beginner Shred program.
And from there, I got myself in the habit of doing it. And then once I kept doing it, I was finally able to prove to myself, hey, you can actually do this thing.
What results did you experience from the program?
At my heaviest, I was close to 235 lbs. When I weighed myself this morning, I was 162 lbs.
Pull-ups have always been the hardest thing for me. At one point, I could barely lift myself 6 inches off the ground, and now I'm able to do between 7 and 9.
And, you know, the physique changes are exciting, but I'd consider them a bonus. What really came with it was it took my mind from a really dark place, and it brought me mentally to the best spot I've ever been in my life.
Before And After Pictures
Other Highlights From The Interview
What would you say to someone who's struggling to change their lives for the better?
Everybody has their own problems. Everybody has their own struggles. Everybody has their own remedy. And everybody's journey and everybody's closure to that problem is different.
You got to worry about you.
You got to be able to look at yourself in the mirror and if that means cutting everybody out of your life for X amount of time so you can focus on you and only you, do it. It worked for me.
How You Can Be Next
Every month, we'll choose a new winner who'll get supplements and a US$1,000 cash prize. If you want a chance to win or join our program with 100,000+ science-based believers like Sean, click the button below. You can change your life like Sean did and inspire many others!
If you want a done-for-you science-based plan that'll guide you every step of the way with both your nutrition and training, take my quiz to find out what program is best for you and your body below:
Click the button below to take my analysis quiz to discover the best program for you:
↓
Thanks for reading Sean's story!
Here's Sean's Testimonial Video From Our Interview!
Meet Sean O'Brien: Our June 2023 Winner