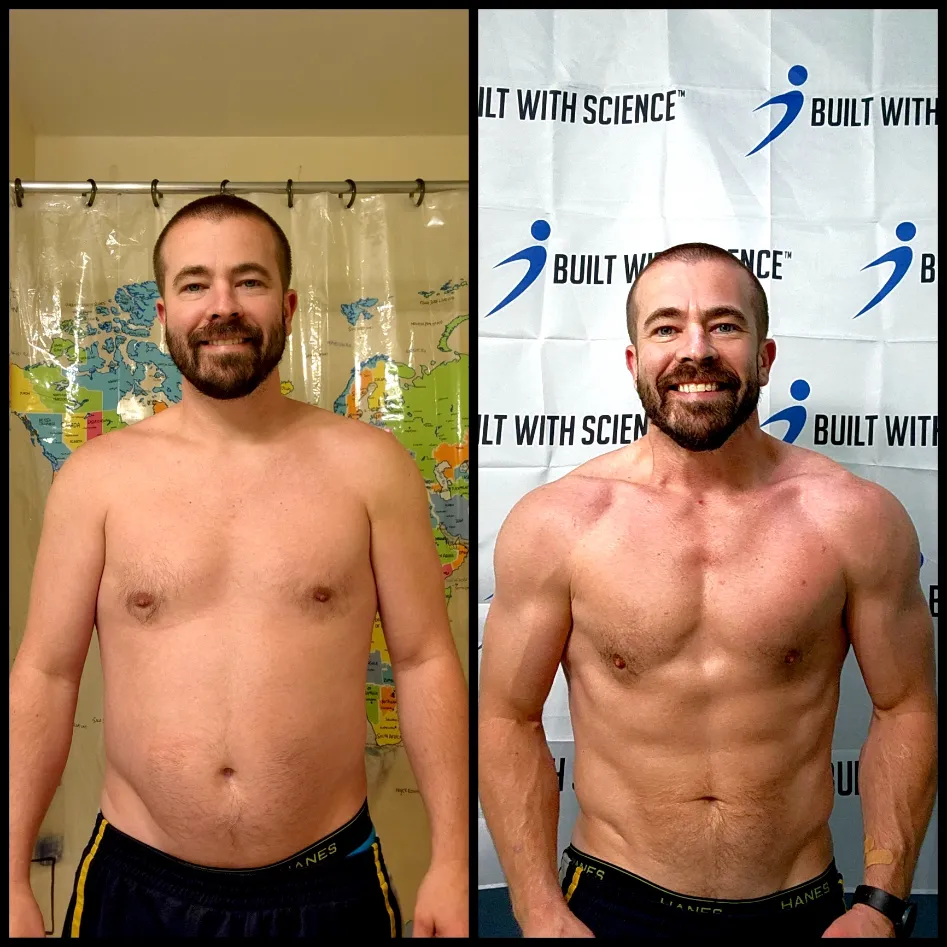 Meet Jesse Kaylor: Our July 2023 Winner
Jesse's Story
Jesse is the July 2023 Built With Science transformation winner, and we're thrilled to have had the chance to talk to him about his journey.
Here are the key snippets from our interview (note: lightly edited for length and clarity).
Jesse, what inspired you to start your fitness journey? Tell us the backstory.
I started because I was looking for a change — to kind of improve my life in general. Also, I've always been a little skeptical of these types of fitness programs.
So, when I came across the ad for the Built With Science program, I felt compelled to sign up. I wanted to 1) challenge myself to see if I was capable of sticking with something for a period and 2) see if I could get results as advertised or whether the transformation pictures were photoshopped or something.
Was your fitness journey with the program smooth sailing? And when did you start seeing results?
The first 2 months of the program were the most challenging.
It was during the middle of the summer, so my workouts were interrupted by a couple of family vacations. And I tried to eat healthy, but it was pointless.
But once summer was over, the part that was really a game changer for me was when I started taking time out of my day at work, like a lunch break and going to the exercise room.
Getting my workout done before I got home just made it so much easier for me. Because otherwise, once I get home to my son, the evening starts, and there's dinner and homework. So it'd be really hard for me to find time.
I guess another factor that's really beneficial for me is that I work in a healthcare facility. We have a full salad bar, so that's made it easier for me to eat healthy.
So once I got into a nice routine, I started seeing results after the first 30 days. I'd lost a fairly significant amount of weight.
And to address my own skepticism, you know, looking back now, the Built With Science program obviously works. It's for real. It's not a scheme or anything like that. I mean, just look at me — when I started, I was around 190 pounds, and I'm currently around 163 pounds.
I feel healthier from head to toe and inside and out. My overall self-esteem and well-being are the highest I've ever seen.
Before And After Pictures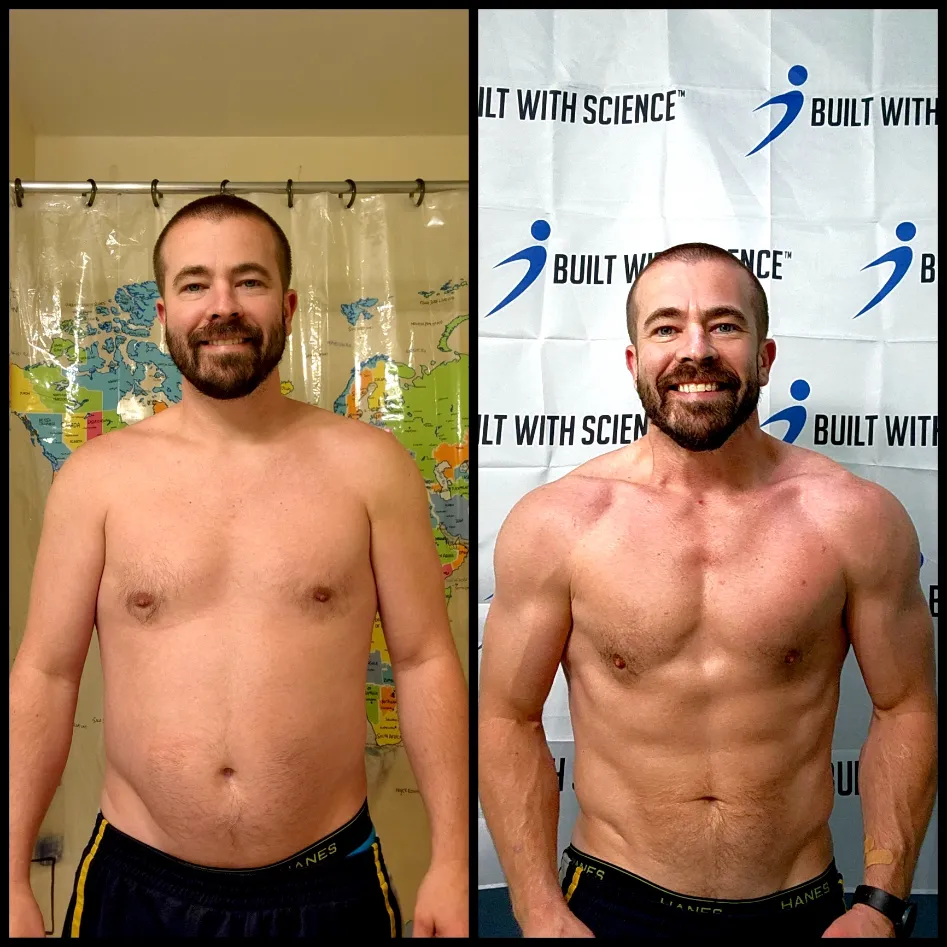 Other Highlights From The Interview
How did you manage your macros?
I used the program's nutrition tracker religiously for the first 3 months until I got a good understanding of the calories, carbs, and proteins my usual food choices contain.
Then once I got a good base, I stopped tracking, but still came up with a rough game plan going into my day. For example, I'll think, I'll have a protein shake for breakfast, a salad with a piece of grilled chicken for lunch, and dinner will be something else.
It was a lot of repetition. But I enjoyed what I was eating, so it worked for me.
How did you stay consistent?
I treated the weekends almost like "cheat days". I wasn't working out, and I wasn't following the diet plan. I mean, I was still mindful of my choices, but I wasn't necessarily obsessing over sticking to my macros. Then, come Monday, I'd be like, "All right, we're back to it."
So I think having that little window on the weekends really helped me stay consistent.
What advice would you give to someone skeptical about joining the Built With Science program?
The main thing would be to stick to it. I'm proof that the program works. And if you put in the work, I think you'll 100% see results.
How You Can Be Next
Every month, we'll choose a new winner who'll get supplements and a US$1,000 cash prize. If you want a chance to win or join our program with 100,000+ science-based believers like Jesse, click the button below. You can change your life like Jesse did and inspire many others!
If you want a done-for-you science-based plan that'll guide you every step of the way with both your nutrition and training, take my quiz to find out what program is best for you and your body below:
Click the button below to take my analysis quiz to discover the best program for you:
↓
Thanks for reading Jesse's story!
Here's Jesse's Testimonial Video From Our Interview!
Meet Jesse Kaylor: Our July 2023 Winner