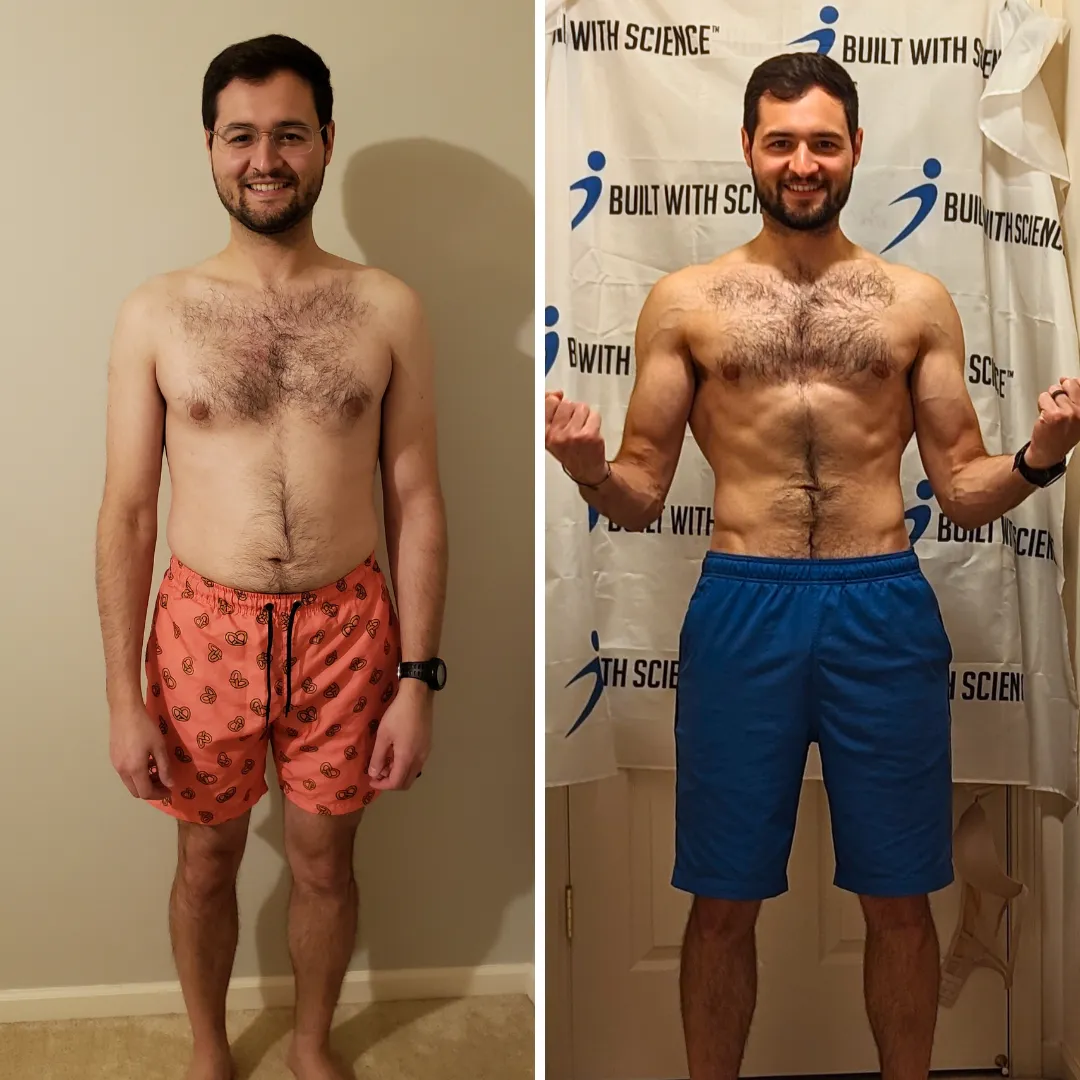 Meet Dominic Misak: Our September 2023 Winner
Dominic's Story
Dominic is the September 2023 Built With Science transformation winner, and we're thrilled to have had the chance to talk to him about his journey.
Here are the key snippets from our interview (note: lightly edited for length and clarity).
Dominic, what inspired you to start your fitness journey? Tell us the backstory.
My journey honestly goes way back — you know, I'd see videos on YouTube and think, "Man, it'd be nice if I looked that way or had a body like that."
Before I went on the Built With Science program, I'd actually tried and failed a few different things. I was never consistent. And then, back in November 2022, the biggest thing really was just deciding that I had to do this for myself.
I've always been interested in longevity.
I want to live past 100 years old, and muscle mass helps with that, so I guess that was a pretty big contributing factor for me.
What drew you to the Built With Science program? When did you see results?
I'm actually a psychiatrist.
So with my science background, I just felt that there was no other way.
I wanted to be sure that I was doing something that had evidence behind it that was well-supported. I wanted to make sure that I was hitting all the appropriate muscle groups; and that I wasn't overworking or underworking myself.
The resources and program really met my needs.
You know, the videos and articles provided links to scientific papers I could check out myself. At the end of the day, it was really about the evidence and also Built With Science's message, that "You can achieve this," that truly connected with me.
While I started the program in November 2022, I actually didn't see results till March 2023, when I decided to be more diligent about counting my calories and macros daily.
Prior to that, I was going to the gym 4 times a week but was pretty lax with my nutrition. I'd usually do the weekdays pretty well, then came the weekend — and things would kinda fall apart.
But once I finally committed to the calories and weighed my macros every single day, that's when the real changes started to come.
I started to notice some of the fat loss. I was able to lift more, and my muscles were becoming more defined. And all that almost just seems to hit you. Like, one day, you look in the mirror, and you're like, "Oh, I look better!"
I can wear a swimsuit and not feel self-conscious. I can talk to people more openly and not always feel lousy or not confident about myself. I have more energy, I sleep better, and my stomach is hardly ever upset.
I'm a completely different person than I was.
Before And After Pictures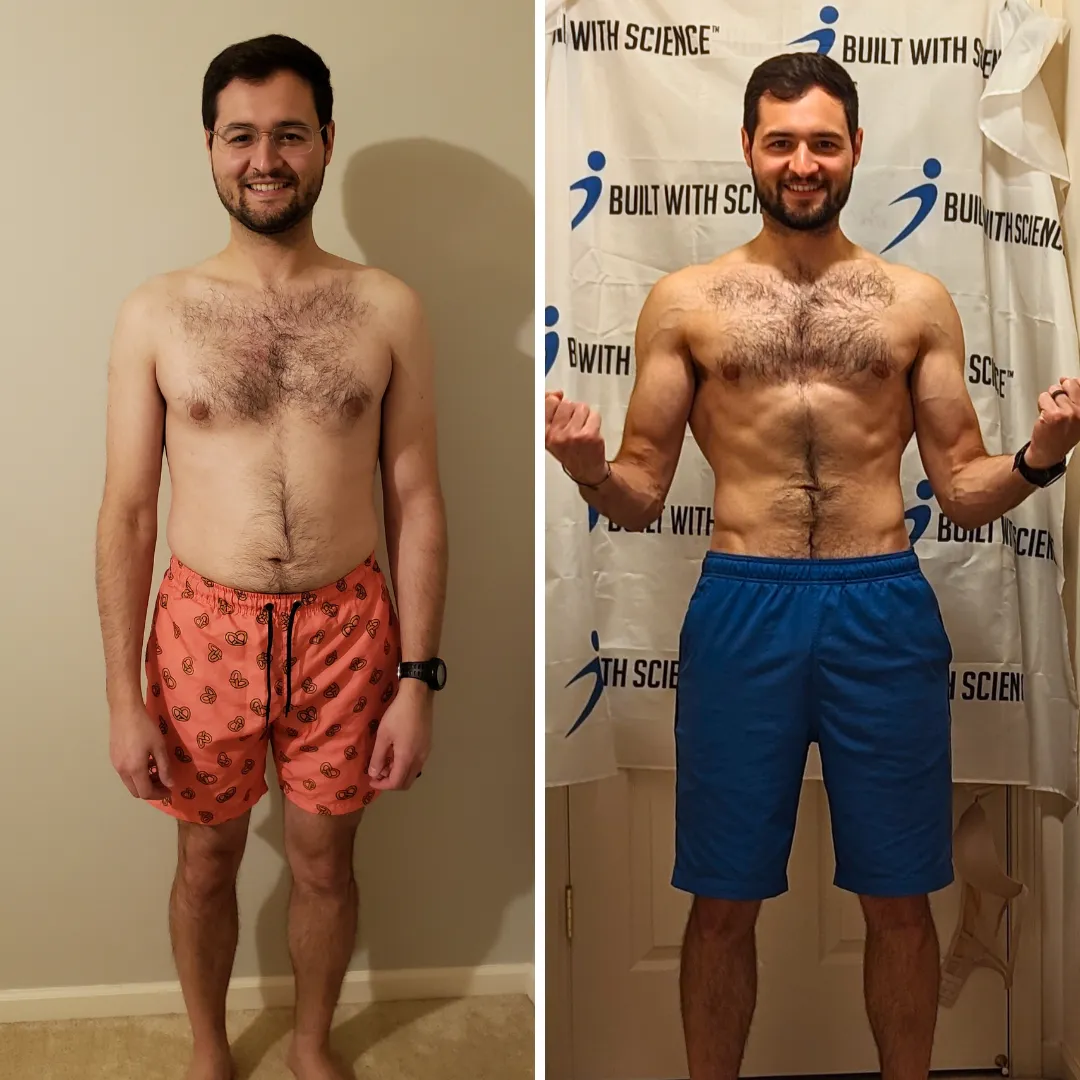 Other Highlights From The Interview
Was it difficult to improve your nutrition?
I think the biggest part of it was the mental bit — like, I thought that if I started counting calories and macros, it'd feel like I was giving up the freedom of eating what I wanted.
But what I've realized is that when you count, you can still eat what you want. You're just portion controlling everything, and you're balancing things. In hindsight, I can now tell that I've actually gained so much more freedom by counting and taking accountability for what's going into my body and what's fuelling my body and mind.
Also, it turns out counting macros was way less effort than I thought it would be. I can't imagine not counting now.
Any advice for people looking to start on their fitness journey?
It's OK to only focus on getting your workouts in, then start bringing in the diet.
Obviously, the sooner you can incorporate both and, like, go gung-ho at it, the better. But the reality is that it's very hard to do that.
It won't happen overnight. It's a process, and it's OK to have some patience with yourself.
How You Can Be Next
Every month, we'll choose a new winner who'll get supplements and a US$1,000 cash prize. If you want a chance to win or join our program with 100,000+ science-based believers like Dominic, click the button below. You can change your life like Dominic did and inspire many others!
If you want a done-for-you science-based plan that'll guide you every step of the way with both your nutrition and training, take my quiz to find out what program is best for you and your body below:
Click the button below to take my analysis quiz to discover the best program for you:
↓
Thanks for reading Dominic's story!
Meet Dominic Misak: Our September 2023 Winner